When:
January 29, 2013 @ 5:30 pm – January 29, 2013 @ 7:30 pm
2013-01-29T17:30:00-05:00
2013-01-29T19:30:00-05:00
Where:
Bennett Lecture Hall, Flavelle House, Faculty of Law, University of Toronto

Contact:
David Asper Centre for Constitutional Rights, Faculty of Law, University of Toronto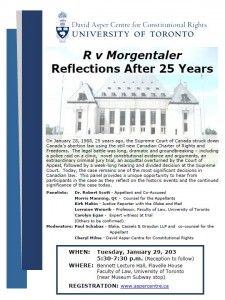 On January 28, 1988, 25 years ago, the Supreme Court of Canada struck down Canada's abortion law using the still new Canadian Charter of Rights and Freedoms. The legal battle was long, dramatic and groundbreaking – including a police raid on a clinic, novel constitutional evidence and arguments, an extraordinary criminal jury trial, an acquittal overturned by the Court of Appeal, followed by a week-long hearing and divided decision at the Supreme Court. Today, the case remains one of the most significant decisions in Canadian law. This panel provides a unique opportunity to hear from participants in the case as they reflect on the historic events and the continued significance of the case today.
Panelists: Dr. Robert Scott – Appellant and Co-Accused
Morris Manning, QC – Counsel for the Appellants
Kirk Makin – Reporter with the Globe and Mail
Lorraine Weinrib – Law Professor, Faculty of Law, University of Toronto
Carolyn Egan – Expert witness at trial
(Others to be confirmed)
Moderators: Paul Schabas – Blake, Cassels & Graydon LLP and co-counsel for the Appellant
Cheryl Milne – Executive Director, David Asper Centre for Constitutional Rights
Reception to follow in the rotunda.
More information and registration at www.aspercentre.ca